The Kanji for Breath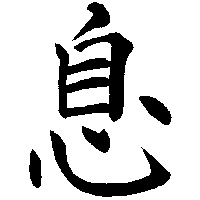 In Japanese the kanji for breath (iki) is 息 which is made up of 自 self and 心 heart.
Why might this be? The Heart as the Sun of the body we have talked about often.
Breath is also the breath of spirit. The very word "spirit" is the same word as the Latin for breath (which is why we have re-spir-ation). In Greek pneuma means breath and Spirit, in Sanskrit atma means the same two things, as does ruach in Hebrew.
The sun is of course connected with the rhythms of manifestation – day and night, the seasons. The heart, while it is Solar, does not carry this direct symbolism. The breath, on the other hand does. In fact when we talk of seasonality and time we use the breath as the extreme signifier – that is, it represents the smallest rhythm (a single in-and-out breath) and the greatest (the outbreathing and inbreathing of the cosmos by the Dark Mother at the beginning and end of time).
Breath is less world-like than heartbeat. Heartbeat stops at death while breath-spirit is pictured as leaving the body but continuing ("giving up the ghost" – and remember that "ghost" also means spirit originally – cf German Geist and older English usages like "the Holy Ghost").
Sanskrit, being closer to primordial language than the Classical or Semitic languages contains an additional meaning to the word atma. It also means self. And it means self in both senses – the Supreme Self – Divinity, and the small personal self (atma and jivatma). Words derived from atma are used to mean "myself" in Sanskrit-derived languages (such as Hindi) to this day.
Thus breath is the self-heart the center-symbol that directly symbolizes the duality/oneness of Supreme self and "mere self" as beautifully expressed in this kanji.